Bathroom tile trends come and go, but we've broken down the most amazing new styles we've seen this year. Some are new. Some are old. Some are older trends just slightly tweaked for updated tastes. Whatever flavor catches your eye, there's no doubt that tile is one of the most enduring choices in bath and shower rooms because it is versatile, beautiful, and it performs in those damp spaces like a dream. So while form very much matters to all of us, never forget that it's the incredible function of tile that keeps designers and home owners alike coming back for more!

1 – Matching tile floors and walls
There's no doubt we all like a crisp, clean looking bathroom. After the kitchen, it's probably the room we want to give off the most immaculate and hygienic vibes. One of the best ways to do that is to give a sense that your bathroom is enveloped in cool, spotless tile. We love the look of marrying the floor and wall tiles, for an elegant, low maintenance spa-like look of pure perfection.

2 – Jewel tone subway tile
This isn't your mama's subway tile! We adore how subway tiles look, and we definitely love how they function in a shower. Now they can give your bathroom and shower a real sense of panache in the daring and lively tones we see floating around this year. As always with bold color, the key is to commit, but not to overdo, so consider just sticking with one lively tone like this azure blue. This is beautifully paired with a sharp white grout that knocks it out of the park.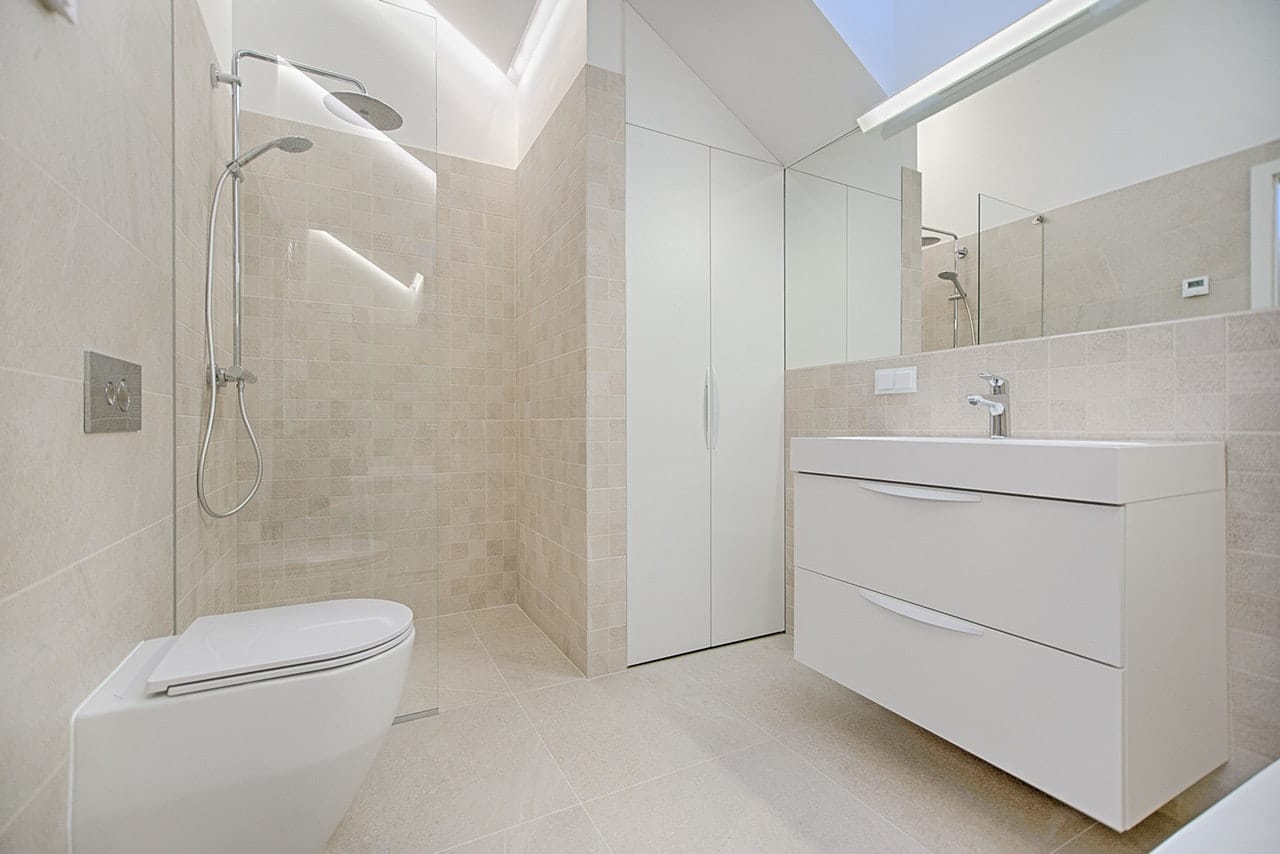 3 – Same tile in varying size
We are wild about this new bathroom tile trend. The core concept is to take one kind of tile, like this buff ceramic travertine marble look, and use it in varying sizes around the room to create an opulent wrap of gorgeous tile for your bathroom. From the oversized square tiles on the floor to the oversized rectangles behind the toilet, the small neat squares in the shower, and the small rectangles behind the sink, this bathroom tile extravaganza is a rich feast for the eyes.
4 – Painted brick
Few finishes give a sense of architectural grounding to a space like brick does, and when given a cool white paint job, brick can become a bathroom decor dream. Evoking a sense of texture and structure, while providing the clean surface necessities of a bathroom or shower space, painted brick may be just the style statement you've been looking for.

5 – White marble
Yes, white marble is all the way back. Far from the fussy, yellowed bathroom tiles of yesteryear, the new white marble tile trends are for bathroom-ready finishes in smaller statement tile sizes like this oversize subway tile look. We love this dark beige grout, but you can make a statement with any grout color from black to grey to brown to white. And the key is that this isn't a look just for massive oversized baths. You can incorporate it into a bath/shower combo and it's still the cat's meow.

6 – Wall to wall to ceiling to floor
One of the hottest new trends in bathroom tile is to put it, well, everywhere. If you're always wondering about how clean the surfaces in your bathroom are, then this is absolutely a bathroom tile look you must consider. Everything, and we do mean everything, in this bathroom is not only waterproofed, but can be hygienically wiped down. Tile on the floors, walls, and ceilings is definitely a design commitment, but we'd love to spend some time in this bath haven any day.
7 – Herringbone
We love herringbone everywhere else, so why not in the bathroom as well? Whether you choose to create the look yourself like with these simple, inexpensive white subway tiles, or if you choose a pre-laid smaller or more intricate tile, this is a look that can dress up any bathroom space. We love it paired with the simple whites and grays of this bathroom space so the herringbone itself can be the real star of the whole bath ensemble!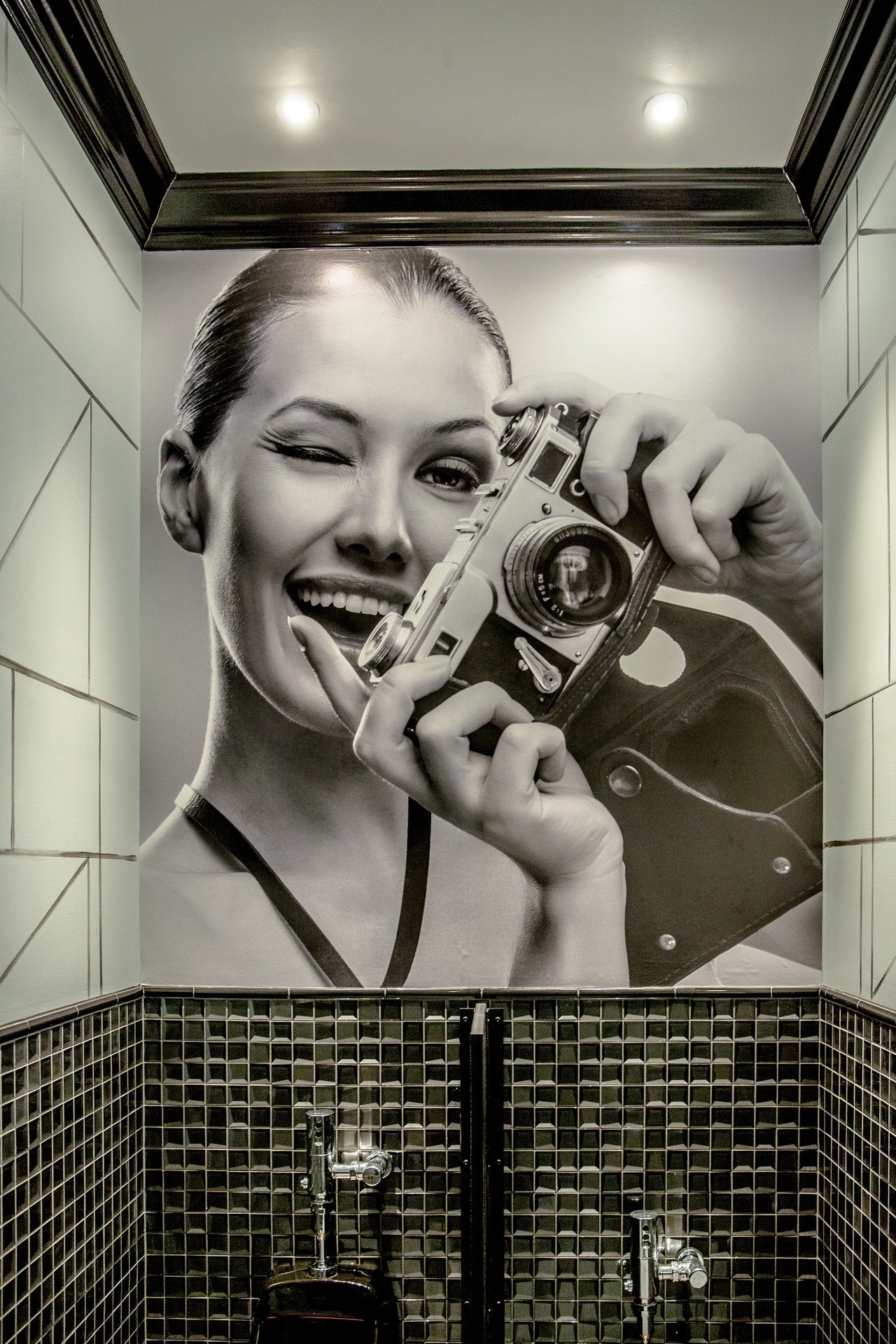 8 – Mix-and-match
We love the way these disparate styles of tile have been paired together to make a great overall statement. From the shiny little black square mosaic tiles on the lower portion to the large matte angular cut white floor tiles on the wall above, this bathroom proves that you really can make anything work together as long as you do it with a little style and a lot of flair. And that fab wallpaper portrait really finishes the look!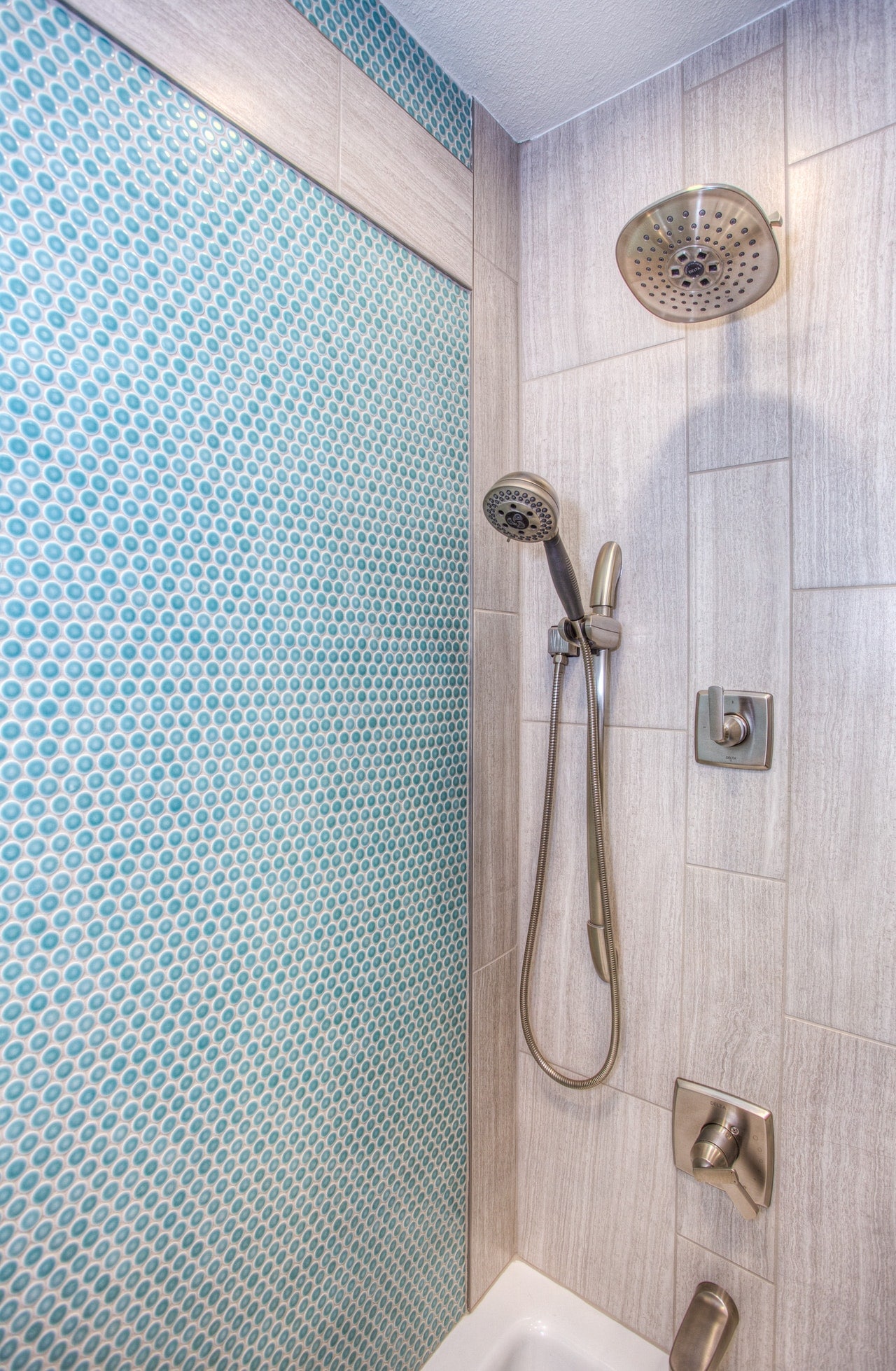 9 – Textural variation
There's something about pairing smooth ceramic tile planks with pebbled diamond shaped tile panels that makes us want to reach out and touch these walls. You could also achieve this look by pairing rough finished natural stone and ceramic. We're so used to unified stretches of tiled bathroom surfaces that when we see these textual tile variations we can't help but think that this looks like a very smart, bespoke look. Pair your custom texture tile tableau with simple hardware and surfaces to make sure your tile statement doesn't have to compete for center stage.